Conférence: "Le combat pour la transparence: Bataille perdue ou bataille à mener"?
On May 24, a conference on Information Transparency has been organized by the AJM, under the supervision of Prof.Cinzia dal Zotto. The AJM thanks all remarkable speakers who accepted to participate to this event, sometimes travelling from very far away, and contributed to an exceptional and very successful conference.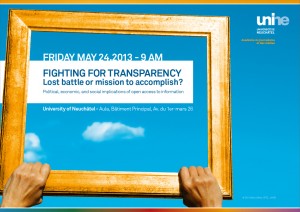 A special thank goes also to Peter Rothenbuehler for his genuine support through a very lively and engaged moderation. Last but not least the AJM thanks Tamedia Publications Romandes, Ringier Romandie, the Radio Télevision Suisse as well as the Faculty of Economics and Business at our University for sponsoring the event.